I pickled radishes this past weekend.
I've cooked raspberries down into the best ice cream syrup ever.
I've made friends with sweet potatoes (that thing that people do with the marshmallows? it's kind of gross, really).
I've figured out what a sunchokes, ramps, and scapes are.
I'm pretty sure that none of that would have been possible without my membership in Harmony Valley Farm's CSA this year.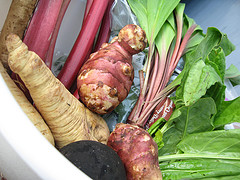 To review, CSA stands for community supported agriculture. Amber and I purchased a share of Harmony Valley's output for the 2009 growing season, so just about every week since May we've been picking up a box full of veggies to share. With a CSA, you don't get to pick and choose what you like, and you're at the mercy of the tastes of the farmer (dude really likes radishes), and the ravages of the weather (it was a bad year for broccoli, a great year for onions).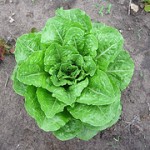 There are dozens of CSAs that deliver to the Twin Cities area (see the Land Stewardship Project for more details). We picked our CSA farm pretty much randomly this year, though our pick seemed justified by other bloggers who seemed really happy with Harmony Valley, and they were right.
We had the Full Season, Every Week share from Harmony Valley Farm. That means that our deliveries started in mid-May, and just ended this past week. The boxes at the beginning of the season were a little light. Lots of root veggies, some salad greens. By mid-June though, things had really started to pick up. Scapes, and then garlic, zucchini, cauliflower, snap peas, edamame, amaranth. August/September brought a flood of tomatoes and peppers (sweet, hot, pimento, you name it). There were some weeks that there were definitely more than the three of us (myself, Amber, and Mr. Amber) could handle, and sadly more food than I would have liked ended up in my compost pile. But what we could eat, was generally delicious (maybe not the pea vines), definitely nutritious, and certified organic to boot.
The management of the farm has been great too. Their website is well laid out, and it's easy to find information about what to expect in each week's box, and they have archives of all of their weekly newsletters (with recipes and veggie features) online as well. They also make arrangements with other nearby farms to buy their excess produce to help fill out boxes that would be especially light (a problem that seemed to plague people with other Twin Cities CSAs this year). Since Amber and I were splitting a share, we thought it would be complicated, but they are well set up to handle that, invoicing us separately via email, and making sure that we each got any necessary paperwork. One caveat though: Amber and I did have differing experiences with a couple of off-season orders (my beef freezer pack order seems to be fine, but items that were promised to Amber for Christmas won't arrive until the New Year).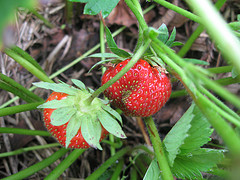 Lastly, the farm encourages its members to visit, and Amber and I got a chance to drive down their for their Strawberry Picking day. It was great to meet the people who work at the farm and to really find out where our food was coming from.  They also have a small campsite near their creek, and host a Harvest Festival/Pumpkin Picking day in the Fall — both things that I'd like to do if I stayed with this farm in 2010.
So why I am thinking of switching next year?
Location, location, location. I live in Blaine, and work in Shoreview. HVF is definitely light on pickup locations in the north metro, and while the Como location was mostly OK relative to Amber's previous apartment, now that she's moved there isn't really a pick-up location that makes sense for either of us anymore (especially if we need to meet up to split the share).
Quantity. It's calmed down now (especially with the transition to storage vegetables), but as I said above, there were times where there was just too much food to eat in a week. Going down to an every-other-week share would probably help with this, but I'd love to find a farm that offered half-shares on a weekly basis.
Curiosity. Harmony Valley Farm was amazing. But are they really the best out there?  With so many other options, it seems wrong to just stick with one out of habit.  Worst cast scenario, we have bad luck and have to switch back to HVF in 2011… at least I'd know, right?
So, there you have it.  If you have 4 adults to feed, and live within a convenient distance of Harmony Valley's pick-up locations, I have zero qualms about recommending them.  I, however, am going to shop around a little and see what else I can find… any of you have suggestions?